UTS's Ship Husbandry Services can greatly save you time and money, by avoiding dry-dock for repairs / maintenance to your vessel's hull and running gear, as well as extending the need for dry-dock inspections, by providing you with certified inspection services.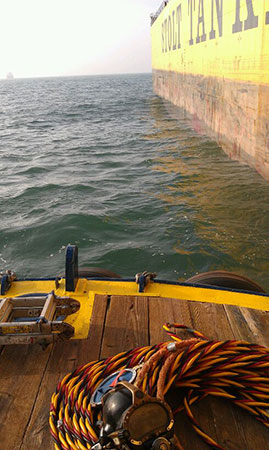 We supply the equipment and trained personnel to provide your vessel with:
Hull Cleaning - to remove fouling organisms that increase drag, and therefore reduce your top speed and increase fuel consumption.
Propeller Polishing - to greatly increase the productive value of your running gear, we'll bring your barnacle-covered propeller to Rupert's scale A in less than a day.
Non-Destructive Testing - including UWILD, grounding surveys, fouling surveys, inspections of known or suspected damage to the vessel's structure, equipment or coating
Blanking – need to swap out interior hardware? We've got the custom-built blanks and plugs to close off the interior of your vessel from the outside environment and allow you to change out the equipment.
Equipment Change-Out - Some of your equipment cannot be changed out from the inside of the vessel. Our personnel have the experience to safely remove and replace your Transducers, Valves and other underwater equipment.
Pintle Bearing Readings - know the condition of your Pintle Bearings.
Tail Shaft Wear Down Readings - we'll quickly and proficiently provide you with your annual Tail-Shaft Wear-Down readings.
Please call 281-789-7198 or e-mail your requirements for a prompt quote.